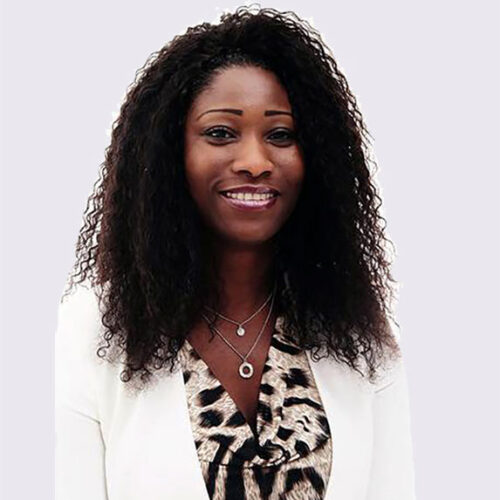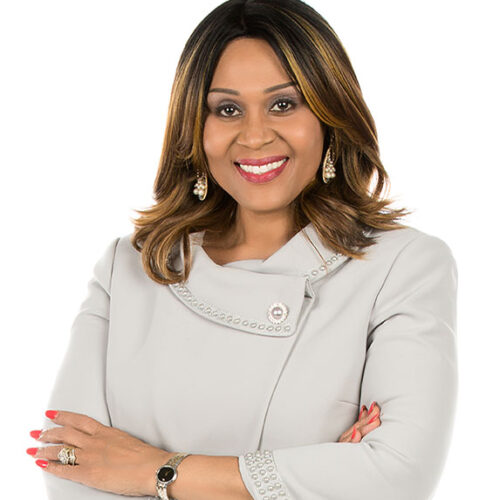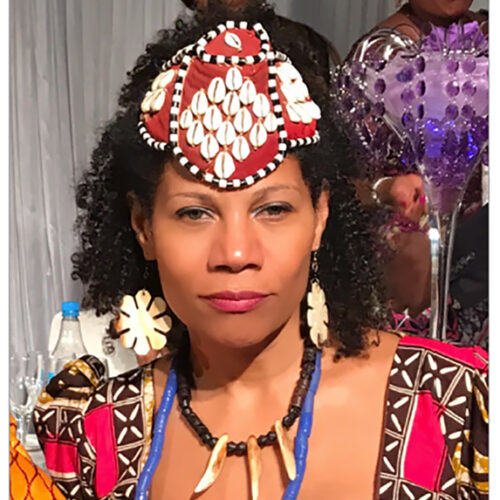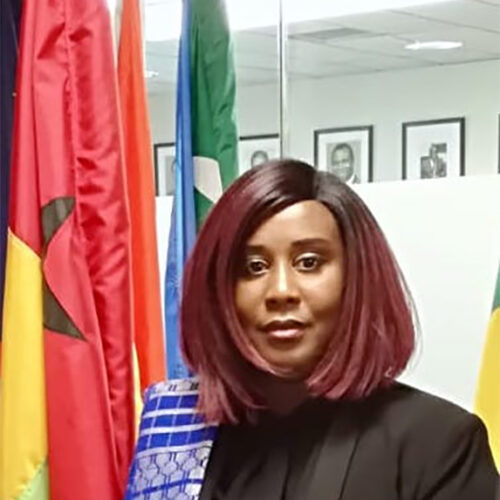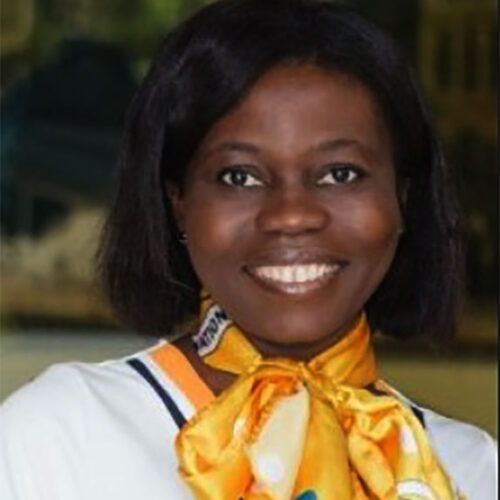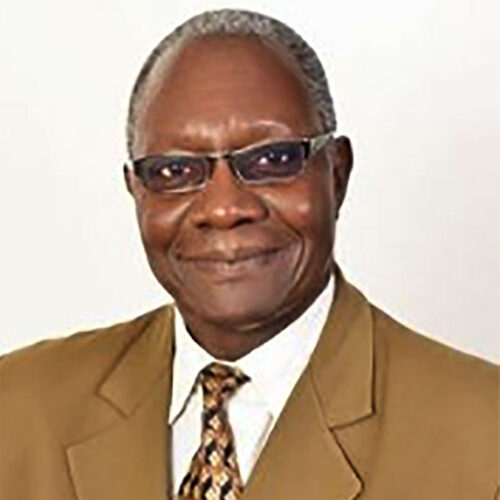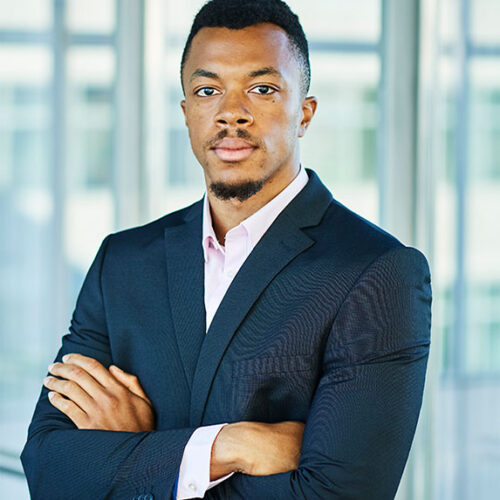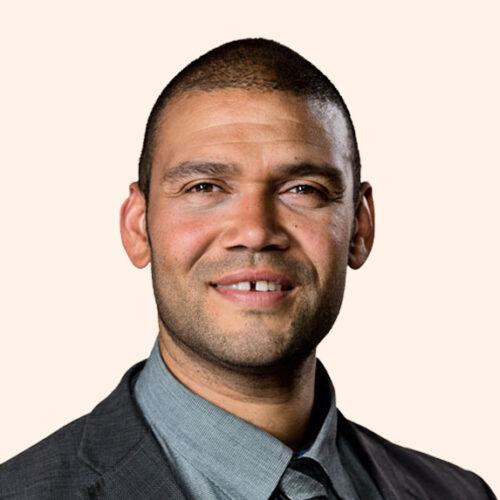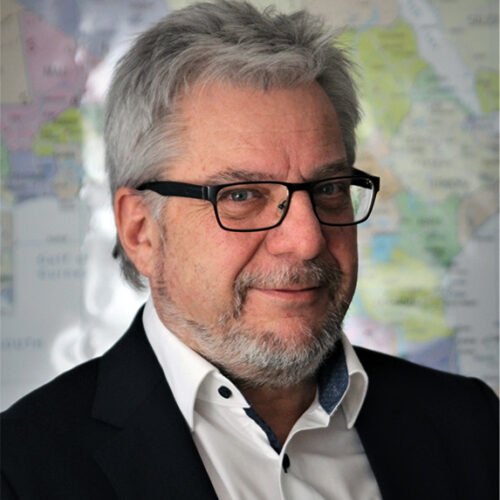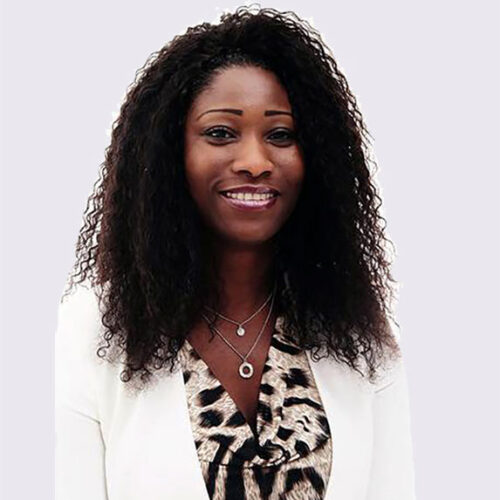 CEO, African Chamber of Commerce
Cinthia Lois TA
Cinthia Loïs Ta is founder and Chief Executive officer of the African Chamber of Commerce Scandinavia (ACCS) whose purpose is to promote sustainable business and investment opportunities between Scandinavia and Africa.

Cinthia is also the Vice President of the 6th Region Global Chamber of Commerce whose mission is to unite and empower Africa's sustainable economic development through strong partnerships and positive reconnections of the people of Africa and its descendants, including the indigenous people worldwide.

Cinthia served as the Secretary-General of the State of the African Diaspora an international Governmental organization with a purpose to strengthen Africa through the diaspora and the diaspora through Africa. However Cinthia remained in the leadership of ECO-6th Region Secretariat, the administrative body of the State of the African Diaspora.

Cinthia is a member of the advisory board of the Africa Transport Trade Energy Summit (ATTES), a conference designed to present and promote the continent's infrastructural potential. She also serves as ATTES Global Program Director, Nordic.

She also serves as an executive board member for the Alternative development organization (ADO) with particular focus on African Alternative Development initiative which seek to designed to shift current operating system of Africa from old model of exploitation to new model of empowerment and enables the people of Africa to take charge of their future by designing and implementing their own operating system which is based on the principles of Environmental Responsibility, Energy Efficiency, and Sustainability (EES).

In 2004, she worked as a Business development consultant for the Ministry of Industry and Private Sector Development in Ivory Coast.

In 2009 she was appointed by the government of Nigeria to organize the Economic forum and the official visit of Jonathan Goodluck in the Nordic countries.

From January 2015 to December 2017, Cinthia has been teaching "Organization and Management", "Africa in globalization" and "Corporate Social Responsibility" at Copenhagen Business School (CBS) at the Master level.

Cinthia is the co-author of a book entitled: "From trade agreement to transport performance – up to 2050" which was released in May 2020.

Cinthia now working on another book entitled: Post Conflict Reconstruction and the role of Government- The case of Ivory Coast" which is to come out in a year time.

Her vision is to expand, create and reinforce existing cooperation and partnership between the Nordic countries and Africa and thereby help the African continent in its effort to establish sustainable development.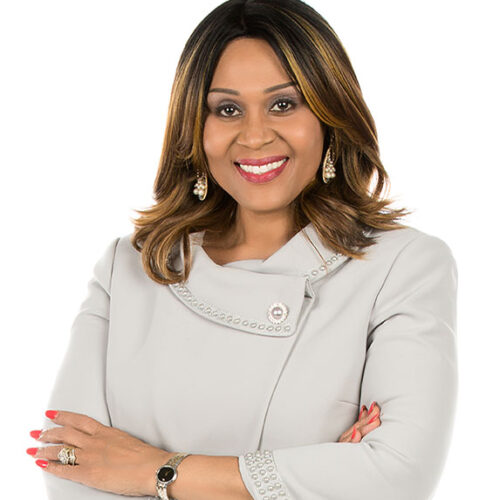 Founder and Chairman of the 6th Region Global Chamber of Commerce (6th GCC)
Dr. Melida A. Harris Barrow
Born in Panama City, Panama, she is the founder and Chairman of the 6TH Region Global Chamber of Commerce, Universal Peace Ambassador for Panama, an Author and International Bestseller, a Motivational Speaker, a Life Coach, a Talk show host, the CEO of Love, Truth and Peace Global Initiative; Panama World Trade and Investment Foundation; and the Harris Business Enterprise.

The dedicated social and political activist has selflessly committed more than thity four years of her life to the social and economic development and advancement for people in Africa, Latin America, the Caribbean and the United States of America.

Specializing in international economic investment and trade development, she has helped nations move forward towards sustainable economic development by empowering the future generation through programs focusing on youth entrepreneurship.

She has partnered with foreign governments to build meaningful and long-standing relationships, successfully thriving in international business, and excelling in the private sector.

Dr. Melida Harris Barrow Has taking Social Economy
& Tourism to the next level.
She's training and educating the people in the diaspora and the world by demonstrating and broadening their knowledge of trade and the global economy, this approach will open opportunities for growth and business development, economic development is not an end in itself, but an essential element for sustained change so that families and communities can create environments where everyone benefits.

Achievements & Awards

• Afrique Magazine Award for Promoting the African Culture and Continuing to Serve and Support People of African Descent
• Chicago Carifette Committee Award for Leadership-Contribution in Promoting Caribbean Culture
• iChange Nations Great Leader Award
• Women Add Value Recognition "Women Leadership" Award
• Distinguished Leadership Recognition Official Medallion Winner
• Appointed the Golden Rule Goodwill Ambassador
• Presidential Award from the former President of Ethiopia Girma Wolde – Giorge Award as a Human Conservation Solutionist
• African Network of Southwest Florida – Keynote Speaker Award; USA Africa
Bridge Builder Award
• COESL Dynamic Youths Grenada Business Hub Sustainable Development Through Entrepreneurship Conference Partnership Award
• Youth Add Value – Sculpting Excellence and Advancing Leadership Award
National Statesmen Degree (non-academic degree) for the governing body of iChange
• Global Humanitarian Award by Love International from Trinidad & Tobago
• She was recently awarded for her valuable contribution to society as a permanent and high representative of the Afro-Descendant Culture in Panama from the organizers of the 5th International African Festival of Panama
• The President of Costa Rica, The Honorable, Luis Guillermo Solis presented the Limon Roots Award to Dr. Melida A. Harris Barrow for her important philanthropic work and promotion of business development of the Afro-descendant community at an international level.

Congressional Award "Woman of the Year Award" by Congressman Danny K. Davis Multi Ethnic Advisory Task Force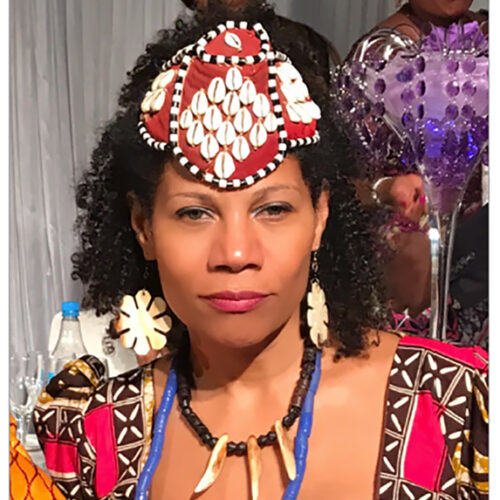 Vice Chairperson of the Global Blockchain Organization (GBO)
Queen Diambi Kabatusuila
Diambi Kabatusuila was crowned as the ruler of the Bena Tshiyamba People of Bakwa Indu of Central Kasaï Region part of the ancient Luba Empire in the Democratic Republic of Congo on August 31st 2016. She has been enthroned by all the Bakwa Luntu Chiefs on July 15 2017 and now holds the Title of Diambi Mukalenga Mukaji Wa Nkashama Wa Bakwa Luntu (Queen of the Order of the Leopard of the Bakwa Luntu People). She was invested in Kinshasa by the Association of Congo Traditional and Customary Authorities on August 5th 2017. On March 3, 2019, the Queen was crowned in Salvador de Bahia, Queen Mother of the Bantu People of Brazil, the Historical African Diaspora, which has a population of nearly ninety million people The Queen has been awarded with the title of Grande Mãe do Povo Bantu do Brasil and received the Tiradentes Medal, highest honor from Parliament in Brazil in March 2019.

Born in Belgium to a Belgium Mother and Congolese Father who was a Diplomat. She grew up in Kinshasa in the Democratic Republic of Congo. The Queen has an extensive experience of multiculturalism not only because of her own background but also because she has traveled and lived in many different countries. She speaks several languages. Queen Diambi hold a Doctorate of Public Administration and a Doctorate of Philosophy in Humanities, a Professorship in International Law and Order, a Master of Science in Applied Psychology and a Master Of Science in Mental Health Counseling. She has worked as an infants and children Mental Health Therapist as well as a Substance Addiction Specialist. Queen Diambi has consecrated much time mastering issues relating to trauma and how it affects identity. She is a trained EMDR therapist and holds a Degree as a Practitioner of Complementary and Alternative Medicine. Queen Diambi is also a certified Math and French Teacher,

she taught French in an International Bacaloreate program in Florida. Queen Diambi also hold a Bachelor Science in Business Finance and Economics. She has worked for several years as an Economic Consultant with the Observatoire Social Européen in Brussels for the European Commission and other governmental agencies in the EU.

Queen Diambi is the Founder and Executive Director of the Elikia Hope Foundation, New York USA. She is Vice President of FONKABE non-profit in Kinshasa, D.R. Congo. Queen Diambi is the Director of Public Relations of the PanAfrican Council of Traditional and Customary Authorities, Cotonou, Benin. She is Vice Chairperson of the Global Blockchain Organization and sits on the Advisory Board of the Alternative Development Organization, Tokyo, Japan. Queen Diambi is Member of the advisory board of the Africa Chamber of Commerce Scandinavia.

From a young age Queen Diambi has always been very interested in all matters concerning the restoration of the African Identity through the study of African history and of the cultural traditional Heritage of the continent and beyond. One of her main projects, besides the enterprise of rural development of Central Kasaï is to seek alliances to change the narrative about African People. Queen Diambi works on promoting the restoration of the African Identity by encouraging people to learn about their true history, and by promoting the appreciation of their African Ancestral heritage in cultures, languages, folklore and traditions, all of which place the greatest value on compassion, respect, solidarity and the primordial role of the Creator in all aspects of existence.

Queen Diambi strongly believe in promoting a culture of peace in the world. She thinks that to insure that we are creating a peaceful environment in an ever challenging global milieu, it is primordial to foster a compassionate attitude, mutual respect and a desire for understanding people who are different and who often have opposing interests .  Queen Diambi has taken many initiatives to create such opportunities by traveling  across the globe to seek friendship and alliances between her People and diverse communities by encouraging people to go outside of their comfort zone to reach out and share about their experiences, culture, history and traditions as well as to learn about others'. In her view the will and the decision to reach out to others with an open heart to highlight similarities in fundamental needs, concerns, values and aspirations  is the premise of friendship that can pave the way for peace and prosperity for all.
Business Development Consultant at Laaru Consulting and Chairman of the Finnish-African Association
Sarah Laaru
Sarah Laaru is a Finnish-Ghanaian Business Development Consultant and owner of Laaru
Consulting. With her team of professionals, local partners, and financial advisors, they work
closely with companies interested in investing and doing business in Africa.
She specializes in market entry strategies, stakeholder management, strategic business
development, and sales consultancy services. She has over ten years of professional
experience working closely with startups, SMEs, and organizations in both public and private
sectors in Europe, the Middle East, and Africa.


She played a pivotal role in establishing and managing the Finland-Ghana Chamber of
Commerce with her colleagues as a Co-Founder and Business Consultant. Under her term, the
Chamber provided business advisory services for Finnish and Ghanaian businesses in both the
public and private sectors. The Chamber organized business seminars and also assisted in
trade delegations between both countries. In 2014-2015 she served as the Vice-Chair and was
one of the founding members of the non-profit association called Think Africa ry.
She serves as a board member for the Ghana-France Business Club in Paris. She is an active
member and current Chair for the Finnish-African Society ry, the first-ever African Association
established in 1968. She manages the operation team of the Society and reports to the Board of
Directors.
Sarah is a keynote speaker and has given speeches and presentations on African
business-related topics towards Sub-Saharan Africa, ranging from energy sustainability and
sustainable market entry strategies into Africa. In 2016, She represented Monaliiku; a Finnish
NGO focused on immigrant women's sports and health advocacy, at the 2nd International
Women & Justice Summit in Istanbul, Turkey.


She has also spoken at the Helsinki African Film Festival, the Finnish-African Society Business
seminars, Think Africa Week events, the Connect Seminar, the TEKES Groove event, to
mention a few. She recently gave a keynote speech during consultations regarding Finland's
Africa Strategy on how the African diasporas can economically and politically contribute to the
strategy. She occasionally serves as a moderator/facilitator for seminars and events.
Sarah has also made guest appearances on Finnish television and radio on immigration and
unemployment issues, feminism, and the importance of creating more safe work programs
targeting immigrant women. She also served as a resource guest lecturer for the Hämeenlinna
University of Applied Sciences for a Development Cooperation program. She lectured annually
on development cooperation topics, ethical practices in designing, planning, and implementing
social impact projects towards Africa in partnership with local initiatives.

She holds a degree from the Vaasa University of Applied Sciences in
International Business Administration with a specialization in Foreign Trade Relations. Sarah
speaks fluent English, Finnish, Akan, and Dagaare (Ghanaian dialects) and is currently
polishing her French and learning Swedish.
She loves to try new dishes & cuisines in her spare time, read books, travel, do sports, and volunteer.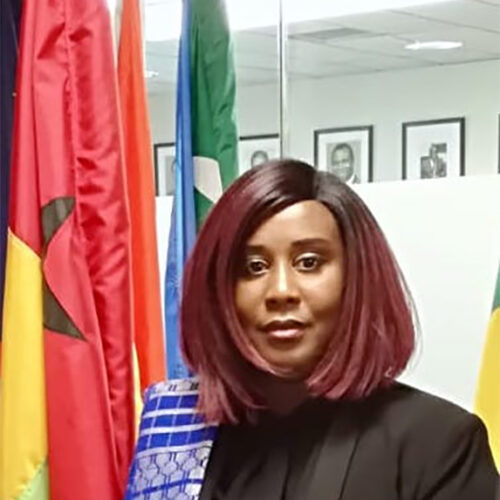 Senior Consultant & Digitalisation
Mrs Madeleine Taylor Mendy
MAdeleine is the founder and the CEO of Scandin-Africa.

"Scandin-Africa is the economic link between Scandinavia and Africa!
The idea of creating Scandin-Africa was born from an observation made on the African continent and Scandinavia. The first has all the wealth and raw materials to make it a continent author of its development and the second has a thriving pool of leading companies because of their deep roots in the innovations of this "millennium".

Scandin-Africa is a network for connecting Scandinavian and African economic players, by bringing Africa into contact with leading countries in innovation technologies. "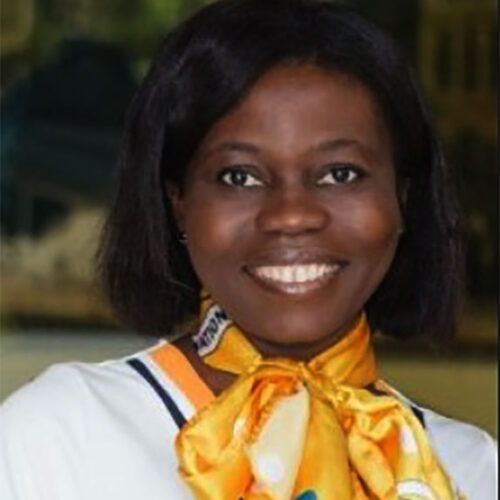 Managing Director at Organic Trade and Investments.
Esther Asante
Esther Ama Asante, commonly known as Esthy, is an award-winning entrepreneur and the Founder, Owner, and CEO of two successful online businesses: Virtual Linguistic Solutions (VLS) and Organic Trade & Investments (OTI). Esther has worked with various multinational companies in Ghana and has championed managerial roles in radically different industries – from the real estate to aviation industries.

She was formerly the Relocation Manager at Executive Relocations Africa, a subsidiary of AGS Movers, and the Quality Manager, Personal Assistant, and Commercial Manager at Swissport Ghana Limited from 2015 to 2018. She masterminded the digitalization of the operations management system of OTI which currently integrates 12,000 farmers and 300 small scale manufacturers across Africa.

This powerhouse entrepreneur has been honored with a number of recognitions. In 2018, she received the Best Female e-Commerce Entrepreneur award. In March 2020, she was the only Ghanaian to be conferred the African Global Trade and Investment in Excellence (AGTIE) Award for Trade & Investment Facilitation Excellence. She has been featured in many publications including the American Biz.net, BusinessGhana News, the African Business Communities, and recently, the ecomConnect online magazine, thanks to her impressive achievements and her company's performance in increasing sales during the COVID-19 crisis. Esther is also a member and an Independent Consultant for the SheTrades Commonwealth Ghana project.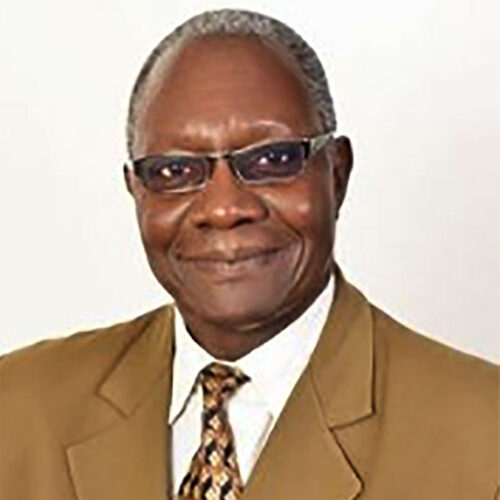 Managing Partner at Stepchange Africa and Regional Consultant for the London Institute of Skills Development East Africa
Prof. Andrew Ssemwanga (PhD)
(i) As Vice Chancellor at St. Lawrence University and Cavendish University Uganda (more than four years);
(ii) As Dean of Faculty at Kigali Independent University (1 year);
(iii) Consultant in higher education – Business Ethics, Academic External Examining, Teaching and Learning Strategies for Sustainable Development, Assessment, Institutional Evaluation for the Association of African Universities and other institutions (8 years);

(iv) Senior lecturer at Makerere University, Bugema University and Kigali Independent University (9 years);
(v) Academic External Examiner at Uganda Christian University, Kyambogo University, Kampala International University, Africa University in Zimbabwe and University of Pretoria in South Africa (9 years);

(vi) Supervisor for Masters and PhD students over 30 of them (9 years).

Sector of expertise 2: Consultancy

Consultant in Corporate Governance, Finance, Investment and Accounting for World Bank, USAID, GTZ, Governments of Rwanda and Uganda, Vanuatu National Provident Fund in Vanuatu (Pacific Island country), Association of African Universities, Association of European University, Association of Universities and Colleges of Canada, Canadian International Development Agency, other institutions and individuals (17 years).

Sector of expertise 3: Insurance
As Chief Accountant/Finance Manager at National Insurance Corporation (10 years).

Sector of expertise 4: Clearing and forwarding

As Chief Accountant at Qwicklear East Africa (2 years).

Sector of expertise 5: Agriculture

As Chief Accountant at Uganda National Farmers Association (1 year).

Sector of expertise 6: Hotel and catering

As Chief Accountant for Megathought International Limited (8 years).

Sector of expertise 7: Academic Research

Researcher in Higher Education, Corporate Governance, Entrepreneurship, Economics, Finance and Accounting (10 years).

Sector of expertise 8: Training

Trainer in Higher Education, Corporate Governance, Finance and Accounting (10 years).

Sector of expertise 9: Managing Board matters

Board/Council member for universities, academic organisations, private companies, publishing houses, secondary and primary schools, etc. (18 years).

SECTION B: SET OF SKILLS

My skills are in the following disciplines:

(1) Corporate Governance

Corporate governance is the system by which companies are directed and controlled. Boards of directors are responsible for the governance of their companies (Institute of Chartered Accountants in England and Wales, 2020). Corporate Governance therefore consists of structure of rules, practices, and processes used to direct and manage a company.

I have utilised the skills in Corporate Governance in all my sectors of expertise that I have mentioned above in Section A.

2) Financial Management

It is the process of planning, organizing, directing, controlling and monitoring financial resources with a view to achieving organizational goals and objectives.

I have utilised the skills in Financial Management in all my sectors of expertise that I have mentioned above in Section A.

3) Accounting

Accounting is the process of systematically recording, measuring, summarising, analysing and communicating information about financial transactions.

I have utilised the skills in Financial Management in all my sectors of expertise that I have mentioned above in Section A.

4) Human Resource Management

It is the function within an organization that focuses on the recruitment of, management of, and providing direction and guidance for the people who work in an organization.

I have utilised the skills in Human Resource Management in all my sectors of expertise that I have mentioned above in Section A.

5) Leadership

It is the art of motivating a group of people to act toward achieving a common goal.

I have utilised the skills in Leadership in all my sectors of expertise that I have mentioned above in Section A.

6) Institutional Evaluation

A form of an audit, consisting of a written report by the higher education institution, followed by hearings led by a panel of external experts and a final evaluation report which includes suggestions for improvement.

I have utilised the skills in Institutional Evaluation in the Higher Education and Consultancy sectors.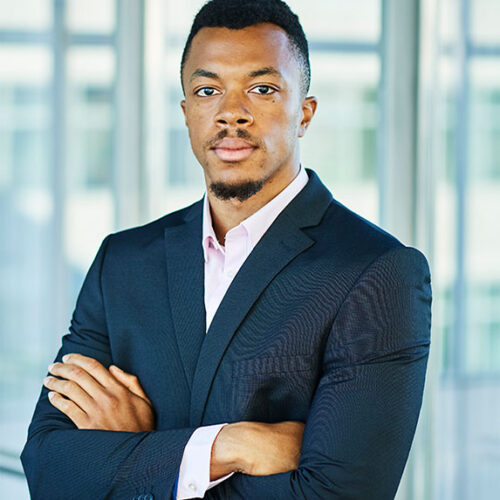 Business Development Consultant, Congo RDC
Prince Kitenge
"Prince is a member of the Board of Directors of the ACCS with a focus on development projects related to the Democratic Republic of the Congo.

Prince maintains a keen interest in the socio-economic development of his home country, where he has been engaged as a coordinator for several projects initiated by the DRC's Presidency."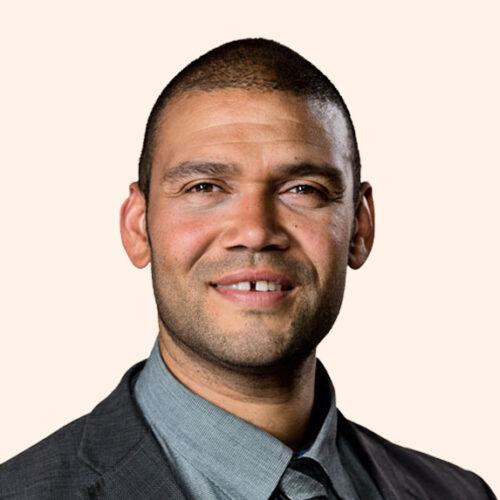 Founder @ Courage Institute, Board member European Network Against Racism DK (ENAR DK)
Roger Courage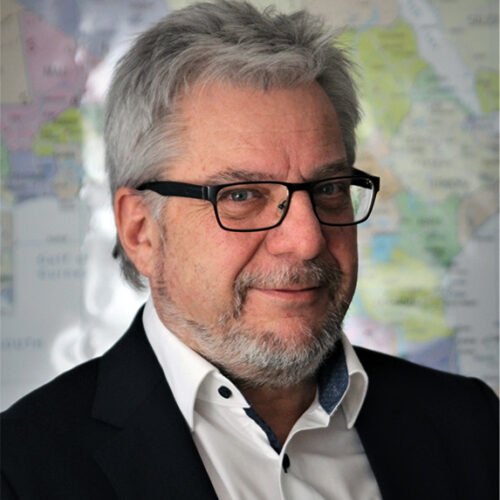 Chief Executive Officer at stage.one fashion OG
HANS PETER FALLMANN
Personal Profile

26.10.1955 born in Lunz am See, Austria,

living in Gaißau in Vorarlberg in Austria

married to Cornelia , 2 children

Education

Textil Engineer, University course: Exportmanagement

Work Experience

1977 – 1994: FM Hämmerle Textilwerke AG, Dornbirn Austria

Exportmanager Great Britain, Japan, Africa, Sales Director Special Sales, Head of Logistics and Materials Management and Purchasing)

1994 – 2020: NEWTEX Textilvertriebs GmbH, Lindau Germany

CEO (development and sales of fashion textiles)

1998 till now: stage.one fashion OG., Gaißau Austria

CEO, founder and owner (textile project business, shop management)

Since 2017 distribution of African Damask / Brocade / Bazin riche "Imperial Diamond" in cooperation with Fussenegger Textiles, Austria

Special Activities / Engagement

Project: SAMU Fruit company in Sierra Leone

Fruit planting and processing project. Approx. 1000 jobs.

Project: African Trading House

Implementation of an African Trading House.